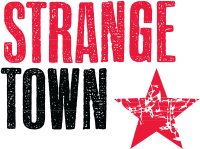 // Hide main menu based on theme options
Young Company
Our Young Company offers opportunities to and showcases the talent of Strange Town's 18-25 year old members. They work with our team at Out of the Blue to create new theatre, which they then perform in various settings. Over the last five years the Young Company has produced 17 new plays, and we offer opportunities to get involved not only with stage plays but also to learn about acting for radio, devising, forum theatre, site specific theatre and writing. Performances take place in venues and spaces throughout Edinburgh.
If you're based in Edinburgh and keen to develop and extend your talents with like-minded, creative people, contact us to find out more and how to join.
Newsletter signup!
Please click below to join the Strange Town audience mailing list.
Sign up >