During the ongoing lockdown we've come across lots of exciting ways to enjoy theatre online. Although we know it's not the same as being all together in a session/rehearsal or as an audience, it can be a lovely way to pass the time.
Not all of the suggestions are aimed at young people specifically, as we work with ages 5 to 25, but we have include age recommendations where we can. We will keep adding to this list so do check back from time to time.

The Royal Shakespeare Company on BBC iPlayer
A chance to see some of Shakespeare's most famous plays online, age recommendations vary. Here is the list of what is available to watch.
The most recent addition is Romeo and Juliet, the shows assistant director Becky Hope-Palmer previously worked with Strange Town youth theatre.

As well as this the RSC have recordings of Live Lessons they've done for schools, you can watch the Romeo and Juliet one now and we'll add any others as they become available.
Plus they have put together activity toolkits for some of the plays or you can explore even more of them further in the Shakespeare Learning Zone.

National Theatre of Scotland Play Dates | Ages vary but start from 5+ | Available from 26th May
A series of free activities and workshops released Tuesday – Friday for the next 8 weeks. Including playing games, telling stories and unicorn dance parties. Find out more here.

Half Moon Theatre Live | Suitable for ages 3-adult | Available now with more available each week.
Every Wednesday a new production for young people will be made available online at www.halfmoon.org.uk/live, alongside access to backstage interviews, production photos and information about how the shows were created.

Your Take– Screen Education Edinburgh | FREE Filmmaking Course for ages 5- 18
No matter your level of experience, Your Take develops your filmmaking skills and helps you produce a short film. It's free and easy to register (parent/carer consent is required for under 16s)
Primary level courses begin Thursday 7th May and run until Thursday 11th June, with people able to register until Thursday 4th June.
Secondary level courses begin Thursday 14th May and run until Thursday 18th June, with people able to register until Thursday 11th June.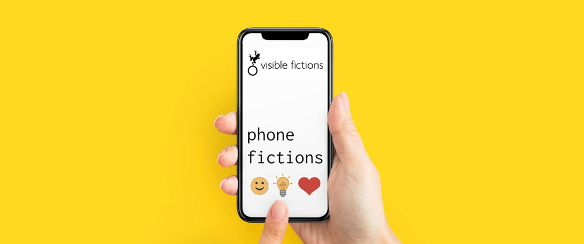 Phone Fictions | Suitable for ages 5+ | All available to watch online now.
Visible Fictions have commissioned 15 Scotland based artists to create 1 minute films on their phones, including our own James Beagon who both writes and leads workshops with Strange Town.

SYFF Home Film Competition | 18 and under | Deadline 31st August
For those interested in film-making the Scottish Youth Film Festival have opened up an exciting film competition for those age under 19 with the theme of HOME. Click here to find out more and do make sure to read over the rules/guidance they give.

Crongton Knights Webcast | Ages 12+ | Available 22nd April – 9th May
From Pilot Theatre, a touring show that was cut short. A filmed version of the show is available to watch now until 9th May here.
Alongside this they are launching a series of webcasts with their creative team, read more about these, here, the first one if on 23rd April.

National Theatre Live at Home
National Theatre Live has been running for a few years now with large scale stage shows being filmed and streamed both live and later on in cinemas across the country. They've now shifted this to YouTube. Each week on a Thursday from 7pm, a new show becomes available to watch for the next 7 days.
7th- 14th May- Anthony and Cleopatra
See what's coming up next here: https://www.nationaltheatre.org.uk/nt-at-home
As well as these full length plays the National Theatre YouTube Channel has a variety of different videos that might be of interest going behind the scenes of shows and the many departments that work to bring them together. The How We Made It and How You Can Make It series both look particularly interesting.
Main photo from December 2019 performance of Sno White and the 7 Dickensians by Isla Cowan, at the Scottish Storytelling Centre. Photo by Andy Catlin.