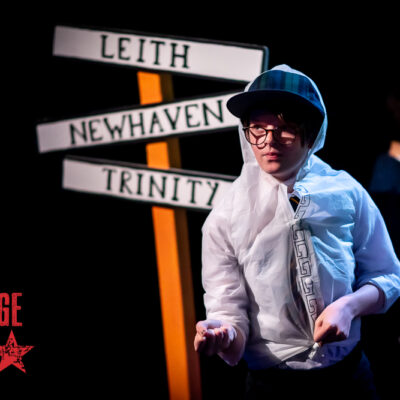 The Ollissey
By Tim Primrose
It's Penny's birthday, and Ollie has to get all the way to Colinton from deepest, darkest Trinity. Simple. Now if only he knew where his bus pass was . . .
The Ollissey: A madcap journey across The 'Burgh, based on Homer's Odyssey. Sort of
| | |
| --- | --- |
| Setting(s) | Edinburgh |
| First produced | June 2012. Directed by Amy Watt. |
| Genre | Comedy |
| Cast Size | 15-20 |
| Recommended for performers aged | 11-14 |
| Running Time | 45 mins - 1 hour |
| Recommended for audiences aged | All ages |
Script Extract:
Enter OLLIE, ANGUS, GRAHAM, TICKLE and CHARLIE, covered in mud and sweat. ANGUS has a football.
ANGUS (chanting): Four-nil! Four-nil! Four-nil! Ooh-ooh-ooh-ooh-ooh-ooh . . . !
GRAHAM: That was amazing!
TICKLE: That was brilliant, by the way!
CHARLIE: Yeah, pure brilliant, by the way!
ANGUS: Shut up, Charlie.
Guys! Hey! How about this, eh? How about us, eh? I mean, come on, right?
I mean . . . are we a team? . . . or are we a team? Right? Yeah!
GRAHAM: Those Trinity boys dinny ken what hit 'em!
ANGUS: Aye, they do . . . Mr Tickle here hit 'em, that's who!
TICKLE: That was a fair challenge!
GRAHAM: That lad whose ankle ya hacked didny think it wiz that fair, Tickle.
ANGUS: What was he like?! (he throws himself to the ground and clutches his ankle) "Referee! Referee-ee!"
CHARLIE: Ha! He was pure gonny start greetin', like.
ANGUS: Shut up, Charlie.
TICKLE: No' ma fault his shins got between ma studs and the ball. Plus, the boy came down on ma ankle. I came out of it worse than he did.
GRAHAM: Aye well. All's fair in love and five-a-side, eh?
ANGUS: A'right, guys . . . guys! (he holds up the ball) Game ball, guys. Game ball. Now Tickle, gie us some music, eh?
TICKLE turns on a boom-box that he's carrying.
This one's a tough call, that game was epic, and we all played our part . . . Graham, in goal; safest pair of hands in the business, I think you'll all agree. The fearless Mr Tickle here; what a legend, ladies and gents, am I right or am I right? Charlie . . .
Pause.
. . . I suppose you did a'right, Charlie.
CHARLIE: Alright?! I scored the final goal!
ANGUS: Only coz' Tickle here bounced the ball of your face.
CHARLIE: That was a heider!
ANGUS: No, Charlie. That was Tickle hoofin' the ball at the goal and you slightly deflecting it . . . using your face.
CHARLIE: But . . .
ANGUS: Shut up, Charlie. No, ladies and gentlemen, boys and girls, I think we can all agree that game-ball has to go to your man-of-the-match, your undisputed champion, ladies' favourite and all around good guy . . . Angus! Yes, that's right, it's me, lads, and you know it. An-gus! An-gus!
Shouts of protest. They try to wrestle the ball off him.
Okay! Okay! I jest! I jest! Calm down.
Match ball, of course, goes to . . . who else . . . ?
He approaches OLLIE with the ball.
Three . . . count 'em . . . three goals in a row; that's what they call a hat trick, by the way . . . our friend . . . our captain . . . Ollie. The ball is yours.
Cheers. Chants of "O-lee! O-Lee!" as they lift him up into the air and bounce him on their shoulders.
Writer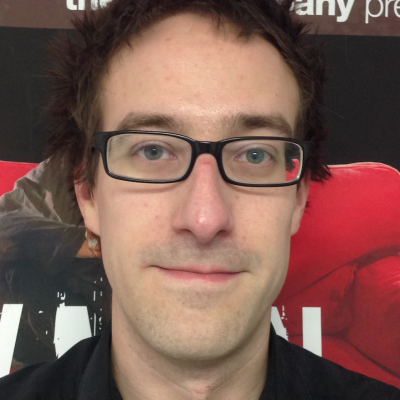 Tim Primrose
Tim is an Edinburgh-based writer who wrote his first full length script, This Here Now, for the Lyceum Youth Theatre at the age of 18. Since then, he has written more than twenty scripts for youth theatres of all ages across the country (including Strange Town Youth Theatre and Young Company). His 2002 play Porcelain Dolls was recently translated into Norwegian and performed at the Rogaland Teater, Stavanger, under the title #Sweet. His directing work includes the 2011 Fringe sell-out Hex, which he co-wrote with Sam Siggs for Strange Town. His first professionally produced script, Broth, was performed as part of 2015's A Play, A Pie and A Pint season at Glasgow's Oran Mor and Edinburgh's Traverse Theatre.
If you are interested in this script, please contact us.