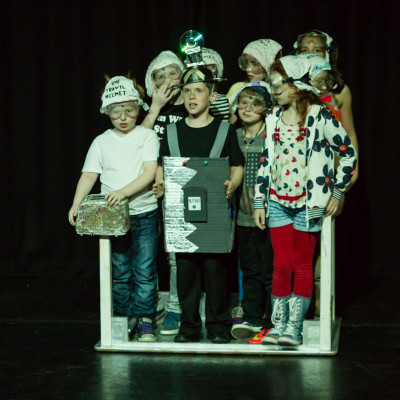 Max to the Future
By Tim Primrose
Max has not done his homework. Oh no! What should Max do? Build a time-machine and travel into the future, of course. Duh!
| | |
| --- | --- |
| Setting(s) | Outside school, a laboratory, various locations in the past and the future. |
| First produced | June 2013. Directed by Hayley Jones. |
| Cast Size | Mixed cast of 25 |
| Recommended for performers aged | 8-10 |
| Running Time | 45 minutes |
| Recommended for audiences aged | All ages |
Script Extract:
ANGUS: I'm sorry, Max-Man.
MAX: Never mind. If only I had a little more time to do my homework . . .
RANDOLPH: Stop!
Pause.
What did you say?
MAX: I said if only I had a little more time to . . .
RANDOLPH: Silence!
Pause.
RANDOLPH: Time, eh?
MAX: Yes.
RANDOLPH: More time , eh?
MAX: Yes!
RANDOLPH: A little more time, eh?
MAX: Oh, in the name of the Wee Man . . . !
RANDOLPH: My friends! My friends! My dear, dear friends!
Time . . . is the last thing we need to worry about.
But-Bot! Bring me Project Z-2501-3748-Gamma-QX!
BUT-BOT: Affirmative. Bleep bleep bloop.
RANDOLPH starts rummaging in a box, giggling madly.
 BUT-BOT drags on an upside-down table wrapped in wire with a toaster gaffer-taped onto one leg.
RANDOLPH emerges with a plastic bag.
BUT-BOT: It is ready, ma-ster. Bleep bloop.
RANDOLPH: Ta-dah!
Silence.
CC: What is it?
RANDOLPH: This, my dear lady, is Project Z-2501-3748-Gamma-QX!
CC: Really? Because it looks like an upside-down table with a toaster stuck on.
RANDOLPH: To the layman, yes, maybe. But to those of us in the know it is quite clearly a Self-Contained Chrono-Displacement Warp Unit.
Pause.
ANGUS: Huh?
RANDOLPH: It's a time machine!
Pause.
MAX: That's it. I'm going home.
RANDOLPH: Look, do you want to get your homework in on time or not?
MAX: Are you seriously suggesting that we travel back in time so that I can get my homework done?
RANDOLPH: Don't be ridiculous.
MAX: Right.
RANDOLPH: Back in time? Ha! No, my friend, no no no, we're going to go forward.
Writer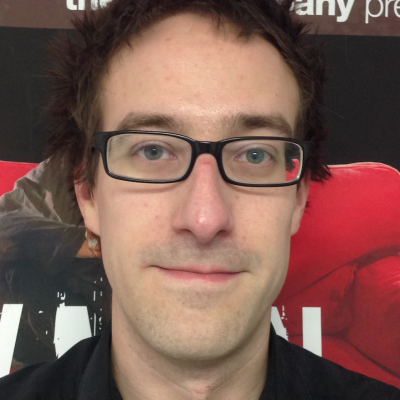 Tim Primrose
Tim is an Edinburgh-based writer who wrote his first full length script, This Here Now, for the Lyceum Youth Theatre at the age of 18. Since then, he has written more than twenty scripts for youth theatres of all ages across the country (including Strange Town Youth Theatre and Young Company). His 2002 play Porcelain Dolls was recently translated into Norwegian and performed at the Rogaland Teater, Stavanger, under the title #Sweet. His directing work includes the 2011 Fringe sell-out Hex, which he co-wrote with Sam Siggs for Strange Town. His first professionally produced script, Broth, was performed as part of 2015's A Play, A Pie and A Pint season at Glasgow's Oran Mor and Edinburgh's Traverse Theatre.
If you are interested in this script, please contact us.