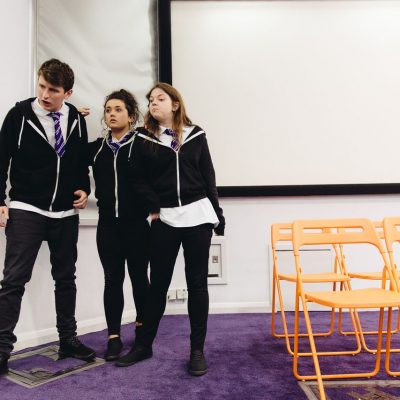 Balisong
Balisong by Jennifer Adam is a co-production between Strange Town and Fast Forward, funded by No Knives Better Lives. It toured to 58 schools in the autumn of 2017 and was seen by 12,200 people. This autumn it will go out on a second schools tour reaching even more pupils.
Balisong charts the journey of four friends through the final weeks of school. They're facing a dilemma. What should they do now that one of their friends is carrying a knife?
A development day for the play is coming up in June:
When – Sunday June 10th 12-4.30pm (with break for lunch)
Where – Assembly Roxy, 2 Roxburgh Place, Edinburgh, EH8 9SU
You will be informed about the audition date for 'Balisong' on 10th June.
This is an opportunity to contribute to network and learn more about the opportunities coming up through the Strange Town/Fast Forward partnership.
For more information and to book a place email Steve Small, Creative Director, Strange Town on steve@strangetown.org.uk
Details
Enquire Now