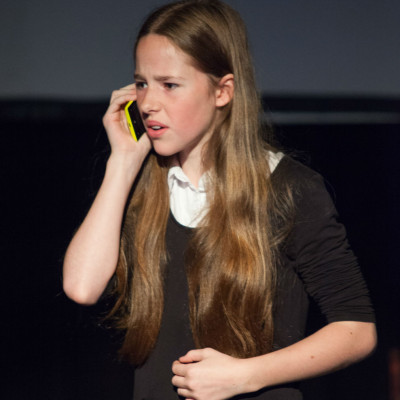 You Game
By Natalie Mackinnon
The play leaves a lot open to interpretation...
When word gets out that a schoolboy has died suddenly, an entire year group spontaneously skives school to remember him. But who remembers Lucas really?
| | |
| --- | --- |
| Setting(s) | A non-specific small island near a city. |
| First produced | June 2014. Directed by Jen Smith. |
| Cast Size | Mixed cast of 25: 13 female, 12 male |
| Recommended for performers aged | 11-14 |
| Running Time | 60 minutes |
| Recommended for audiences aged | 12+ |
Script Extract:
CHARLOTTE: (Looking around) Are we on an island?
DIANA: I don't know. (To Matthew) Is it an island though?
MATTHEW: I'm never sure. Is it?
DIANA: It's joined to the mainland by a causeway
MATTHEW: Which gets covered at high tide
DIANA: So when the tide comes out you can walk right across. Safe.
MATTHEW: So it's not an island, no. Except for when the tide comes back in.
DIANA: So then it becomes an island. Do you see?
ALEX: We just didn't want to go home. Not yet. We just didn't want to. And we all started getting these texts so
DIANA: Besides, everyone was doing it
CHARLOTTE: Everyone?
MATTHEW: (reading from his phone) 'Everyone's going to the island for lucas you game'?
ALEX: We didn't know anywhere else to go. We couldn't just stay in school. Not today.
CHARLOTTE: Can I leave?
MATTHEW: Were you listening? It's an island.
DIANA: Of course not.
CHARLOTTE: So it's definitely an island.
DIANA: For the now.
MATTHEW: Aye.
DIANA: It's a metaphor.
MATTHEW: No man is an island. And no wee chubby boy either.
DIANA: Dramatic.
MATTHEW: Crazy.
DIANA: Mental.
MATTHEW: Lucas.
DIANA: Get it?
CHARLOTTE: Lucas?
MATTHEW: Looks clean to me…
DIANA: Don't touch it I said
MATTHEW: What harm's it going to do?
DIANA: Well I don't know if you care about your progeny having two heads but I'd say they'd have a bit of a rough time in school
MATTHEW: But you know if we want to get back to the mainland before school's out we'll have to swim across this. Maybe both our progeny will have two heads. They could date
CHARLOTTE: I'm not swimming across this
MATTHEW: We might have to. Do you want to have to explain to your parents where we've been all day? It's alright though, I read about this once. The amount of toxicity present in the water will keep you constantly afloat. It's the clean water you've got to worry about. Besides, it's not far. Half a mile, tops. You a strong swimmer?
DIANA: Huh.
MATTHEW: What.
DIANA: I mean. You realise the tide basically is in.
CHARLOTTE: Don't be stupid. Look, there's still plenty of time. We've still. There's.
MATTHEW: Huh.
DIANA: That was fast.
MATTHEW: They won't be happy about that.
CHARLOTTE: Didn't you realise that would happen? Didn't you plan for this?
DIANA: My plan? It wasn't my plan. I didn't. Wow. It's fine though. It's fine. We'll just wait for the tide to go back out.
CHARLOTTE: Do you realise how long that's going to take?
DIANA: Well. What's your plan?
MATTHEW: We can always swim.
CHARLOTTE: We can't swim across that. It's freezing cold
MATTHEW: It's not that bad
CHARLOTTE: And the current. We'd all be swept out to sea.
MATTHEW: Huh.
DIANA: I guess we didn't really plan this at all, did we.
MATTHEW: I guess not.
CHARLOTTE: When did the tide come in? Did you notice it?
MATTHEW: I don't know, I wasn't watching.
DIANA: Huh.
MATTHEW: See?
DIANA: We're stuck.
MATTHEW: Just like I said. Stuck.
DIANA: Huh.
She backs away.
CHARLOTTE: Zoe? Zoe?
Charlotte runs offstage, following Zoe.
They stare out to sea. Lights down on Matthew and Diana. Lights back up on ALEX, RUBY, ROSS and JESS. RUBY is staring into the same sea, sitting a bit further off from the others.
Writer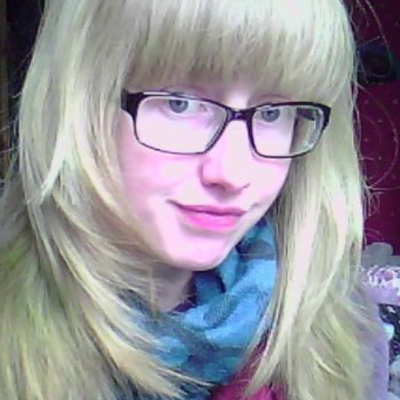 Natalie Mackinnon
Natalie wrote and directed her first play, Is That Baby What (2010), whilst studying towards an MA in English Literature at the University of Aberdeen. She graduated in 2012 with the George Bruce Prize for Creative Writing, the Seafield Medal for English Literature and the Margaret Doughtery Essay Prize. Natalie is part of the Traverse Young Writers and has had several short plays showcased at the Traverse. These include Do You Know Where Your Daughter Is? (2013), Sour (2014) and Dogface (2014). A reading of Natalie's newest play All That Is (2015), will be presented at the Galway International Festival by Druid.
If you are interested in this script, please contact us.