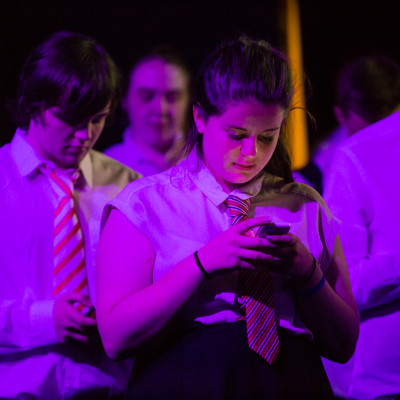 Viral
By Alan Gordon
There are times in life when you find yourself on the edge with no idea how you got there or where you go next; a leap into the unknown, or a tug back from the brink. Whatever happens, the mistakes you make may just be forever. In a world that won't let us stop, if we're not careful, things may end up going viral. 
| | |
| --- | --- |
| Setting(s) | School rooftop ledge, school classroom, playground. |
| First produced | June 2015. Directed by Amy Watt. |
| Cast Size | Mixed cast of 25: 11 female, 14 male |
| Recommended for performers aged | 14-18 |
| Running Time | 50 minutes |
| Recommended for audiences aged | 12+ |
Script Extract:
SOPHIE: (Eyeballing the audience) Eh, problem?
DEAN: This is our turf.
LYNDZ: Grow up, guys.  We're trying to get them on side.
JOE: You, out there, you're just watching from the outside.  Spectators.  Don't forget that.
LIZZIE: You can't change anything.  Even if you wanted to.
BLAIR: No one can.
ANNA: That's just how it is.  How it's always been.  It's not some modern thing.
WILL: It's not like we're unique or nothing like that.
GARY: Because we're not, got that, we're no better or worse than any of you lot were.
CHARLIE: Eh, speak for yourselves.  We are the 'Me' Generation and I for one, have no problem with that.
JESS: Eh, that's not helping.  Look, we know what you lot are all thinking, that we are just the product of the times we're growing up in.
KATIE: Well, of course we are.  How can we not be?
JAMIE: Basically, just don't be starting on us, eh.
LEWIS: Because you've all been here, made them same mistakes.
SUZIE: Ours just spread further, far and wide, like a virus.
RUSSELL: This big disgusting virus that like warps everything it touches, bending it and twisting it until you can't quite recognise it anymore.
KIM: You're on display to the world, every minute detail of your life; from every minor success to the stupidest decision you make.
CHRIS:  Our mistakes are forever.  That's what we've been getting at.
HOLLY: Imagine what you did at our age, the most idiotic action spawned from the most insecure feeling.  Imagining it?
HARRY: Good. Now imagine it stained on the good old World Wide Web until long after you're dead.
MIKEY: I think you'll agree that is some bloody terrifying shite.
BEN: This is our story, our secrets, our lies and our mistakes, captured and packaged for your entertainment.
BETH: Hang on.  Heads down, thumbs up, sit down and shut up.  (Silence falls) Has anyone seen my brother?
Writer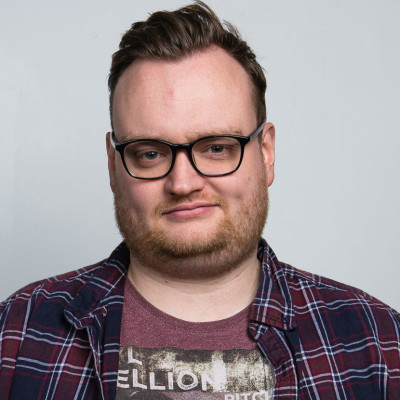 Alan Gordon
Alan is an Edinburgh based playwright who strives to make theatre which is accessible to a wide audience.  After graduating from Queen Margaret University in 2009, Alan has produced 4 plays for the Edinburgh Festival Fringe and has worked with Strange Town since 2011. His plays for Strange Town include Teach Me, which was shortlisted for the Scottish Arts Club Edinburgh Guide Scottish Theatre Award in the 2012 Edinburgh Festival Fringe.  Alan is also one of the Traverse 50 and has been through the Playwrights Studio Scotland Mentoring Scheme.
If you are interested in this script, please contact us.