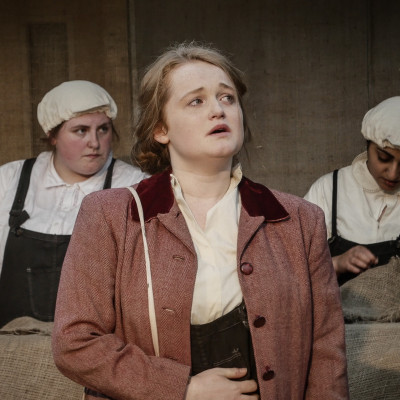 After You've Gone
By Duncan Kidd
A stash of letters tells a family's story through the tumultuous decades of the 20th Century. From war to heartbreak, they reveal that life's never been easy as a teenager.
| | |
| --- | --- |
| Setting(s) | Multiple: modern day teenage girl's bedroom, historical settings: church, trench in France, tenement flat in Leith, cinema, etc.   |
| First produced | June 2011. Directed by Steve Small. |
| Music | Use of letters & singing of traditional songs, recorded historical speeches |
| Cast Size | Mixed cast of 23: 8 male, 15 female (can be performed with less females) |
| Recommended for performers aged | 14-18 |
| Running Time | 60 minutes |
| Recommended for audiences aged | 12+ |
Script Extract:
John, Elspeth and Anna come on dancing the Dashing White Sergeant
John steps forward.
JENNY: Catch.
JOHN: Pardon?
Rugby ball thrown on stage, John catches it.
JOHN: John Rutherford. Captain of the George Watson's first XV. Just turned 19. And newly married to my lovely cousin Elspeth.
He kisses Elspeth.
ELSPETH: Hello. Elspeth Rutherford nee Fraser.
ANNA: And me! And me! Anna Fraser. Back up from the dreaded boarding school for my hols!
The three pose.
Camera flash goes off.
MARCUS: She got married to her cousin?
JENNY: Um yeah.
MARCUS: Right.
He edges away slightly.
JENNY: Happened a lot back then.
MARCUS: Right.
JENNY: These photos were taken in just before they all went off to war.
MARCUS: But the war started in 1914?
BOY 1: And off we went to fields of France or to Gallipoli. With a swing in our step.
BOY 2: Like Peter Pan, ready for An Awfully Big Adventure.
BOTH: Taroo taraa! Huraah Huraah! (Sing) It's a long way to Tipperary!
JENNY: But by 1916 the war had become an industrialised killing field. Thousands of men dying each day.
OFFICIAL 1: We have rather a gap to fill.
OFFICIAL 2: What's the opposite of a surplus?
OFFICIAL 3: A deficit of men
OFFICIAL 1: So we'd better bring in Conscription.
OFFICIAL 2: And lower the age limit to 18
OFFICIAL 3: Yes, 18!
Official 2 and 3 wink at each other.
OFFICIAL 1: What a damned dirty war.
JENNY: But they still had no idea what they were going to
MINISTER: You're country needs you boys! Now more than ever!
ROBERT: Abraham sacrificing his infant Isaac.
Postman/girl enters. The postman is 14 yrs old.
POSTMAN: Morning Robert.
ROBERT: Morning. Hang on when did you become the postie?
POSTMAN: When Mr Mackenzie went off to Palestine or somewhere.
ROBERT: Right.
POSTMAN: Beats school eh?
ROBERT: I suppose. It's my…
POSTMAN: Birthday. I know. Many Happy Returns and all that. Well we've got a parcel, couple cards it looks like, and letter, kind of official looking.
ROBERT: Thankyou.
POSTMAN: Well, aren't you going to open it then?
ROBERT: Yes.
POSTMAN: What is it?
ROBERT: I've been called up.
POSTMAN: Oh, sorry Rob.
Writer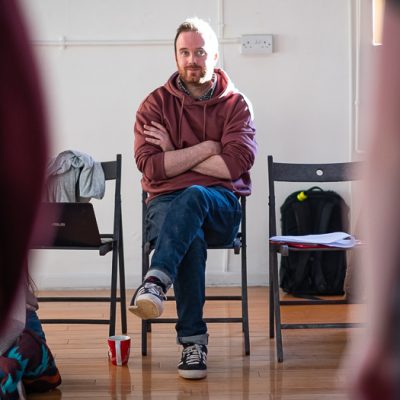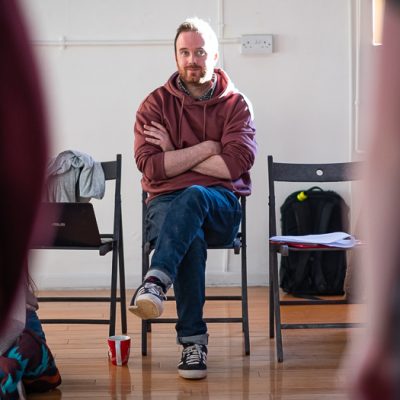 Duncan Kidd: Writer
As a playwright Duncan has worked with Imaginate, Tramway, Active Inquiry, Out of the Blue, Village Pub Theatre, Charioteer Theatre and Piccolo Theatre, Milan.  He has presented a music show at the Edinburgh Festival Fringe and was the winner of the Rowan Tree Playwriting Competition 2013.
He has extensive experience working with young people aged 8-18 as well as 18-25 and up using a devising process. He has written and developed many scripts for and with children and young people for Strange Town and has worked in many primary schools throughout Scotland.
If you are interested in this script, please contact us.